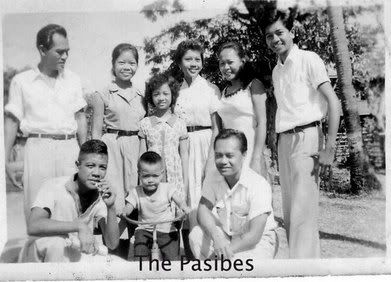 This is my father's family; his brothers and sisters.
Sitting: Jose Rulla Pasibe (my dad), Glenn "namnama" (his nephew, son of Demetrio), Romeo Pasibe
Standing: Demetrio Pasibe, Gloria Pasibe Halabasso, Cherry Pasibe (daughter of Demetrio), Inocencia Pasibe Gatchallian, Remedios Pasibe (wife of Demetrio), Remy Pasibe
I wish I knew the year this photo was taken. By the looks of my dad, it may be in the early 60's, maybe 1960 or 1961. I am guessing that since I was born in 1963 and he looks awfully young in this photo, that it has to be at least a couple of years prior.
My father's family is from the province of La Union, Philippines. Although their father,
Eutiquio
Remigio
Rulla
Pasibe, Sr. lived in Caba, La Union right next door to his son Demetrio, my father's mother hailed from Aringay, La Union where they had a family home. His mother, Josefa Rulla, Remigio's second wife, died at quite an early age though and so he was raised primarily by
Lola Fausta
in Aringay.